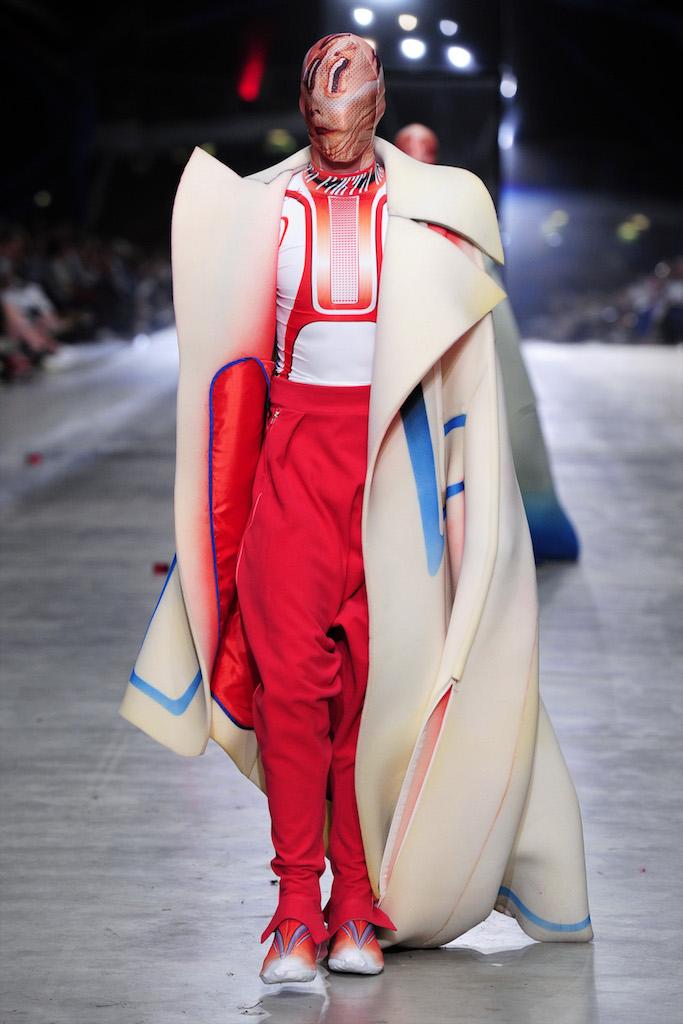 Being invited to London Fashion week is probably the best news Stefan Kartchev heard in months. Of course his excellent bachelor collection at the fashion department of the Antwerp academy cleared the way.
With 'Miscible Displacement' 25-year old Stefan Kartchev shows a great interest in graphic design, movies from the Eighties, masks and his roots in Bulgaria. The Sofia-born designer actually wanted to enter a graphic design course, but after studying at an arts school in Bulgaria (where he was drawn to sculpture and other three-dimensional handwork) he moved on to fashion.
What attracted you to fashion in Antwerp?
'I actually first applied to a London fashion department but my bad English at the time got me rejected. A friend of mine, who's actually a fashion illustrator, introduced me to Antwerp and the experimental way of working fascinated me. I never wanted to design regular ready-to-wear. I wanted to focus on creativity without being held back. I have never used just one technique.'
Looking at the several collections you made during your school career it's clear you often start from an inspiration that takes you back to your Bulgarian roots.
"'I've always loved this clash between tradition and innovation. I can take a very visual design coming from a Bulgarian apron full of flowers, but then I twist and distort the design and I forget about what it initially stood for in Bulgarian society. I'm very good with Illustrator.(smiles)"
In your bachelor collection 'Miscible Displacement' you come up with sporty menswear, with references to both folklore and modern-day cyclists.
'I call them cycling terrorists, because they fly back by in a second, and afterwards you wonder: did this guy really just pass me by? My inspiration book is full of distorted images that I took from cycling but also from The Fourth Dimension, a movie by Polish director Rybczynki.'
You used cottons and wool, but also lycra and a lot of foam. How did you work with that material?
'I made full-on coats in foam, glued the material on the seams and brushed it on the side. I sprayed the colours onto it, which was all a very time-consuming business. The foam is a very fragile material, so I really needed time to learn how to work with it. I also asked this mattress manufacturer to make long tubes from foam which I could manipulate. I dyed them in several colours, in pots in my studio, and then added them on the silhouette. From afar it often looks like embroidery but it isn't.'
You really need to look close to see what the fabric is and how the silhouette is coming together.
'Yes, you think of a folkloristic belt, but it's actually based on a safety belt from swimming. And this design here was initially a rose. I like this idea of a time warp.'
There's even an outfit with a double body.
'Yes, it's a second head that comes out of the body, as if the person goes out of himself. I printed the bodysuit on different types of two way stretch lycra. I admit I hesitated for a while. But once it was finished, it looked great.'
This article was first published in Toile Magazine, issue nr 1 Reset