For more than twenty years, Steven Dewilde created wedding dresses from his workshop in Antwerp. The first wedding dress he ever designed was his sister's. The brides-to-be were always the focus. Steven never did advertising and hardly talked to the press: dressing women for what was supposed to be the most magical day of their life, that was what it was all about.  A couple of years ago, Steven decided to stop designing and go back to an early love: painting. But this time, he wouldn't allow himself to be silent about his work. The paintings became part of a project: Renée's Journey. Steven: 'I wanted to create a character with a story, a kind of patron with a mission. Someone with a great personality, elegant and especially sophisticated, with a love for jewelry.' So he created Renée, as a persona in his paintings. Wearing haute couture from Dior or Givenchy, or that one striped sweater from an Isabel Marant collection she loved. Steven: 'Renée does not follow trends, and will never go out too exposed or overdressed. No, it's the look in her eyes which radiates tranquility. She looks a little dreamy. She looks powerful and international. And to me, very real.'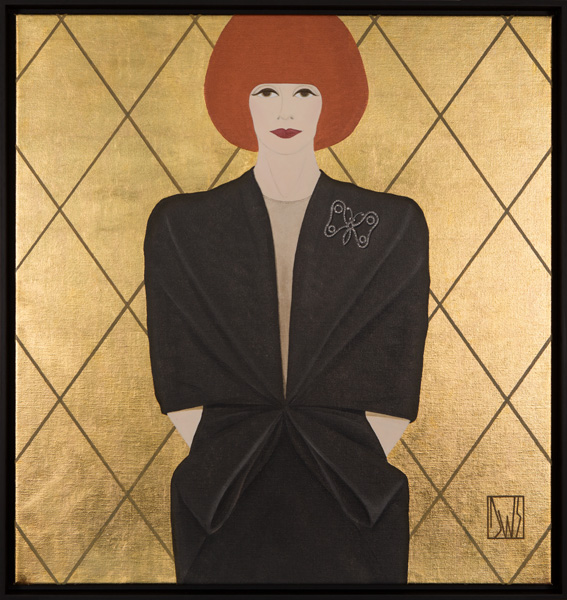 A few weeks ago Steven showed his first 20 works in a beautiful house in Antwerp. The exhibition was a success: 19 works featuring Renée were sold within a couple of days. This was exactly what Steven had in mind, because he wants to donate twenty percent of the sale of his art to a promising fashion designer in Antwerp. His choice? Damien Ravn, a Norwegian designer who studied fashion at the Royal Academy of Antwerp and has never left the city ever since. Ravn's work exudes the kind of craftmanship that Steven's dresses always emanated. Therefore, the choice of Damien is a match made in heaven.
Renée's journey will continue. Next year, Steven wants to take her (and his works) to Paris, and later on to St-Petersburg. Why not?